How to Bypass Windows 7 Password
How to bypass Administrator password on Windows 7? As you may know there are quite a few ways to bypass password from Windows 7, here we will present you the most effective ones. Windows 7 Admin password is typical Windows security measure to secure your computer and data. Obviously it's not perfect, it can't really secure your data, buy having a log in password is really the 101 of security.
Sometimes you can experience this problematic issue when you forget your Windows 7 password. You are wondering what to do in this situation? We have described few solution that will help you to get into Windows is bypass password on Windows 7. We tried to pick the most effective methods you can use and can get oast the password problem.

Solution 1. Bypass Windows 7 Password with Password Reset Disk
Being locked out of Windows 7 is certainly not a pleasent experience. A lot of people don't know they can bypass Windows 7 password with reset disk. This method is one of the one can use if you have forgotten your Admin password. The main drawback of this technique is that the reset disk needs to be create before the password problem happens. So if you want to use this method please make sure you have a password reset disk created before you forgot Windows 7 password; if you don't have one, skip to the next method.
This method may look bit complicated but in fact it isn't. Check out the following steps in order to bypass Windows 7 Password with password reset disk:
Start with rebooting your PC and enter the wrong password (yes, wrong password).
Following error should be displayed: "The username or password is incorrect.". If you see this error, move to the next step.

Now, in the corner of the screen, you will see a "Reset password" link. Click this option.
At this point you will have to insert your password reset disk. After you click on the "Reset Password" link, you will see "Password Reset Wizard" on your screen.

Click the Next button and skip to next step.

Select your password reset disk and click Next.
You should see a new box with several available options like "Type a new password", "Type the password again to confirm" etc.

Now, enter your new password, it is usefull to fill the hint option as well. It can beimportant because it will help you to remember your password if you forger it, so you better use it.
Click the "Next", we are almost done.
Now confirmation should be displayed thhat your password has been changed successfully.
Now click the "Finish" button and close the wizard.
Finally, you have to restart your computer to check if the changes have been saved permanently. So please restart your computer. You will see a login screen. Enter your new password, which you have changed in previous step.
Congratulations you have bypassed your Windows 7 password.
Solution 2. Bypass Windows 7 Password Using Command Prompt
Have you lost your Administration password for Windows 7? You don't have to worry, following technique will help you to get into your Windows without entering the password. This method requires Windows 7 bootable disk so please make sure you have one. If not try another method.
The command prompt Windows 7 password reset technique is rather safe and very easy to perform. Just follow the steps we have described below.
The start is easy, simply reboot your PC with Windows 7 bootable disc. Make sure your BIOS SETUP is configured to start from this disc
Pick the "Advanced Boot Option"
Now press the "Shift" and "F10" keys simultaneously.
By doing this you will launch the Command Prompt (if Command Prompt doesn't open for you, try again)
Type commands provided below and press enter. Those commands will change the password for user name "kon-boot" (replace it with your own username and password):

net user kon-boot newpassword

If you want to add user into Administrator's group, use following command:

net localgroup Administrators /add username

When done, restart your Windows 7 computer, and you will see a new Admin account option. You can log in into this account with you previously set password
That's it your Windows 7 password was changed, and user was added as Administrator
Please note: that this method will only work on local accounts. And you can also use this method for other versions of Windows like Windows 8 or 10.

Solution 3: Bypass Windows 7 Password with Kon-Boot
All the mentioned previous techniques require more or less manual work. If you truely value your time and your are looking for a true Windows 7 password solution there is only one called KON-BOOT. Kon-boot is best Windows password tool that will help you to bypass Windows 7 in seconds. It can bypass forgotten local account password, Microsoft account password for almost all Windows operating systems. Now matter if you want to bypass Administrator account password or normal user. Kon-Boot can do this without problem.
In order to use KON-BOOT, simply:
Firstly execute the Kon-Boot installer, pick your USB pendrive and click "Install to USB".
Power on your locked machine with Kon-Boot USB.
You should see KON-BOOT logo on the screen (if you don't go to your BIOS SETUP and set the first BOOT OPTION to USB).
Wait till Windows loads.
Click on your locked account name.
Type any password and press enter.
Now Kon-Boot does it magic tricks, so you are now logged in to your Windows 7 system without password
Voila, your Windows 7 password bypass is done
Check out how you can use Kon-boot to bypass Windows 7 password in the video below: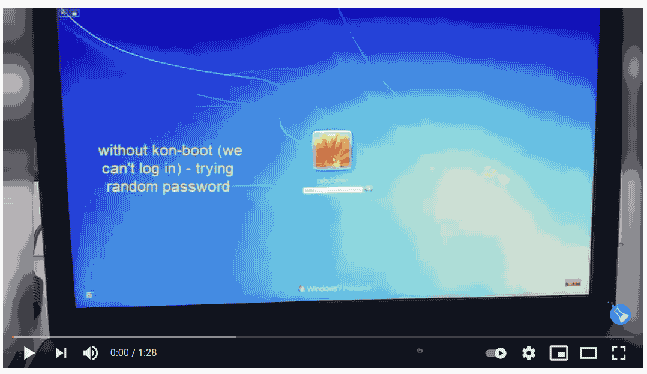 Conclusion
If you have any problems in bypassing your password and thinking about how to bypass Windows 7 Admin password, try the methods mentioned above. With the help of these methods, you will easily reset your passwords. By using our techniques you can your Windows again without resetting it or losing your data. Dealing with lost Windows 7 password can be hard but with tools like KON-BOOT it is nothing to be afraid of.